Flamenco Alma
Flamenco with feeling, art and soul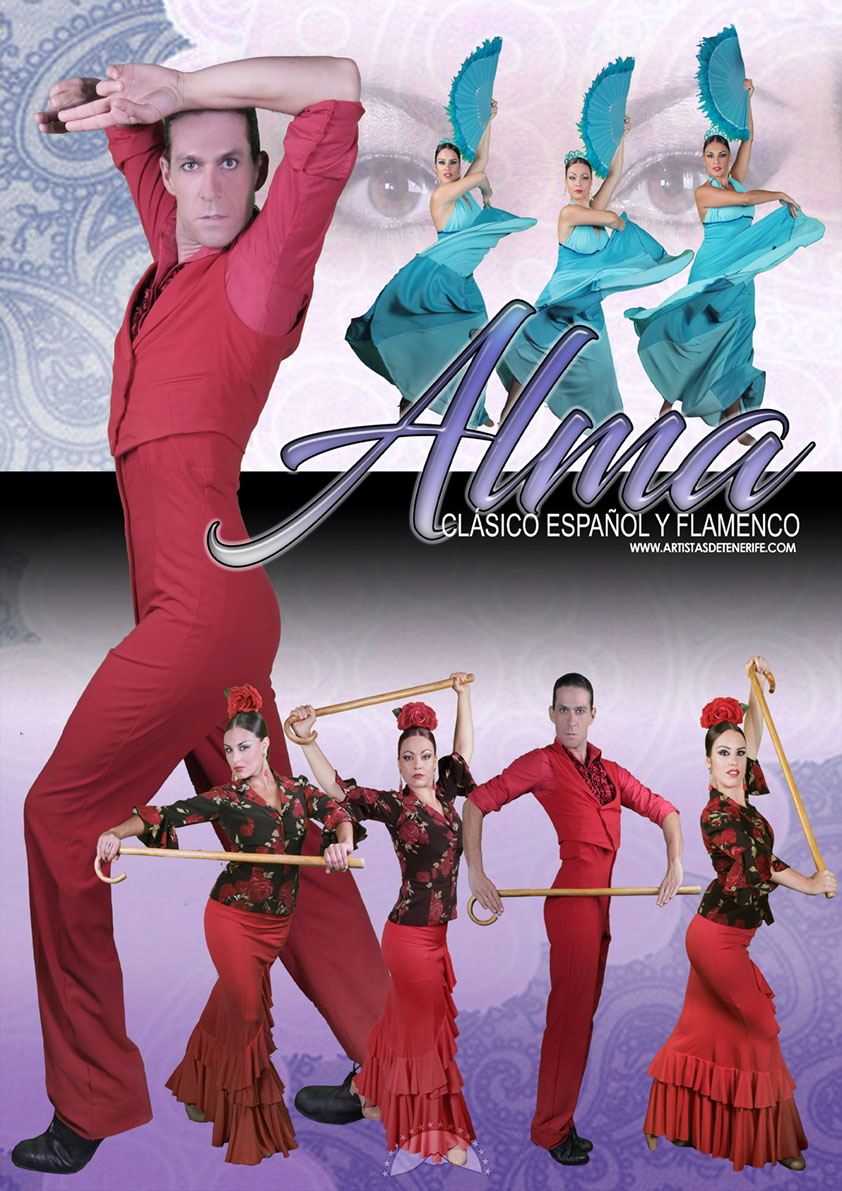 DESCRIPTION
ALMA is dance, art, music that melts into a feeling of fliers, that breaks the silence of a drum of feets accompanied by a touch of castanets. It is the elegance of opening and closing a fan with the harmony of a large manila shawl. Always looking to bring a sweet experience to each of our shows, something to remember.
Our show adapts to the needs of each place to maintain its own excellence. We work in constant evolution to guarantee the most demanding customers a show of higher quality, providing the style and elegance required by the most select and demanding public.
MORE
Born from the entrepreneurial spirit and passion for the Spanish Dance of its creators, the dancers and choreographers Ana Belmonte and Francisco Gonzalez, both of them come from Andalucia (the cradle of flamenco) where from a very young age they study this art from the hand of the first flamenco figures both in Malaga and in Granada and Madrid.
After more than ten years working in different companies of Spanish Dance and Flamenco both national and international, of which include luxury cruises, party rooms tablaos, national and international tours, ... combine their artistic and formative experiences to create ALMA, with the need to break the topic that establishes that Spanish dance is simply flamenco dance. For this reason, it is a different proposal from the rest, in which the whole is a protagonist of a story woven through the feelings conveyed by the dance. The rhythm, magic, sensitivity, movement, aesthetics and harmony fully identify with these artistic realities. A professional challenge for everyone to understand our music and our dance, going from classical themes (Bolero de Rabel, Asturias by Isaac Albeniz) to self-created themes with Arab influences, more daring and modern themes (Legend of Vanessa Mae, Bond) and without forget the purest of flamenco (Alegrias, Bulerías, Sevillanas, Rumbas) adapted to the contemporary taste of the spectators of any country in the world.
The music of our show is chosen following criteria of originality. We transform the themes, giving them the feeling that the product we offer requires. The costumes are made by ourselves following the latest trends in flamenco fashion and have been chosen together with the complements with the aim that the show shines, down to the last detail, with its maximum splendor, guaranteeing that the performance will aesthetically impact our audience from beginning to end.